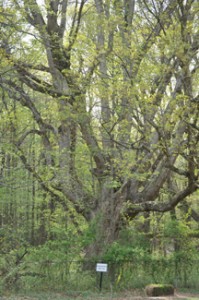 Tomorrow afternoon at Frog Pond we will enjoy one of our favorite rituals: our Grandmother Oak Tree Tea Party. This party is particularly special because the children host it.
They decorate and mail the invitations and make the egg salad, hummus and lemonade. It is their time to begin practicing competencies in planning, preparing, cooperating and celebrating. These are skills that will last a lifetime and make life worth living.
We will have our ingathering in the playground and then follow the drum down the path to Grandmother Oak Tree. Herb Tyson will sing to us then we will have a picnic on the lawn prepared by the children. The students, along with the families,  including grandparents, will join us on this day to celebrate Spring with our Frog Pond Family!