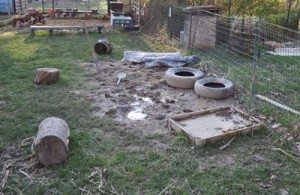 We have been planting, both in the classroom and in the garden. The indoor pot plantings give us a chance to observe growth more closely. For our outdoor garden, we have hoses and will watch the weather for rain and then supplement from the hose as needed.
We have been greeting you with muddy feet, clothes and hands at pick up time. We have the rain to thank for that. A lot of play has been centered on the mud patches around Toad Mountain. Jack used to talk about the mud monster trying to suck off his boots; now he seems to be the mud monster in his play.  While he wades, ankle-deep in the brown slog, his friends sit on a bench, beside the mud hole, and pretend to fish.  They look like old timers, sitting there engaged in their dramatic play dialog!
By the time the sun dries up our mud season, we may have graduated to the cleaner sand box in the Big Yard. The teachers and I have been thinking of many types of sand play props to facilitate some rich play. One of them is water. We have a rain barrel that seems to have been demoted to a trash can. We will move it to the sand box to be used as the water source for sand play. We will add a spicket to provide easier access. We will also teach the children about water conservation by allowing them as much as the barrel holds. Once it goes dry … well, we will have to see what happens.
~ Sue, Frog Teacher