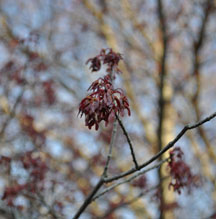 In our area, March is the month when the promise of spring becomes believable. The signs are everywhere, in familiar events that arrive in a predictable cycle that is repeated every year.
First, right after winter solstice, the days lengthen steadily, by a few minutes each day. Then, around February 2 (Groundhog's Day) the birds' songs change as they transition from winter feeding habits to spring mating behavior. Robins return to the area, traveling in flocks. Red maples bloom and their red tassels contrast warmly against the silver-gray trees and clouded skies. Soon the first crocuses will bloom—that's an exciting day! And each day a little more green will show: in the grass, in the trees and across the wetland.
We will take a close look at the green in the trees this spring. As the new leaves unfurl we will see that each bud is an intricately wrapped bundle. Beech leaves are rolled like umbrellas, multi-flora rose leaves are pleated like fans, and ash tree buds look like tiny hands folded in prayer. You have to slow down to see these wonders. Take a walk and let your child be your guide.
Things to do with your child:
• Mark each sign of spring on a calendar when you notice it. You will see a little more each year, and gradually you will become attuned to the rhythm of spring's coming.
• Make a seasonal display on a small table, with flowers, miniature animals, bits of wood, whatever appeals to you. Change the arrangement for each season. Some children love this ritual.
• When you watch birds, try to follow just one or two birds for several minutes. Notice their behavior and try to figure out what they are doing. (Stokes Nature Guides to Bird Behavior are good references.)