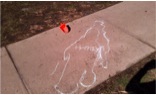 Fire! This is the name of our favorite book. The Tadpoles took a glimpse into the lives of firemen and other community helpers.
Our imaginations ran wild with pretend play in full-out costumes. In addition, we recreated our vision of a bonfire!
Glimpses of spring have been sprinkled throughout the past few weeks. We were able to celebrate in a variety of ways. This warmer weather allowed for quite a few picnics. It also allowed for us to play with our shadows some more. We looked for our shadows. We traced our shadows. And, we chased our shadows.
We not only celebrated the coming of spring, but the inauguration of our new, wooden playhouse. We were able to explore the ins and outs of the new structure.
Heartfelt thank you notes were created for both Mr. Jim and Mr. Luis. Again, the Tadpoles are so thankful!
As we explore March winds, we look forward to the warmer weather. We also look forward to the life cycle of plants – the process of planting seeds and blooming.