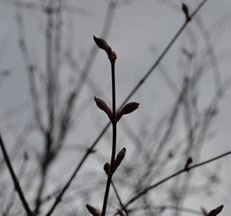 In our emergent curriculum we watch the children as they play, interact, resolve conflict, question and wonder, dance, sleep, glue, color and fold paper — all in the name of understanding the world. Those are ways that children learn. They practice real life during their play. Because I recognize the value of their play, I follow their lead as, together, we co-construct learning. Since art and nature are a child's inherent playground, it becomes the obvious route to exploration and learning.
At this time of year, as we sit on the cusp of winter/spring, the curriculum pops out every day. One day, for example, while half of the Frog class explored Huntley Meadows, the rest of us explored Frog Pond. Popping out of the ground are tiny green pointy leaves of daffodils or tulips. We found two patches outside of the gate.
We will keep watch and record or chart and map other changes as the Frogs become aware of this budding and blossoming world. We will draw what we see. We will document our ideas and paint them with colors to commit our thoughts and ideas to memory. Look out your window or walk in your yard and you'll find our curriculum is in your home and life, too!
Sue, Frog Teacher