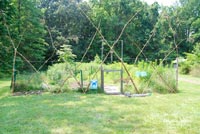 Thank you to all who attended our open house on Saturday. We had a wonderful turn-out and met many interesting new families. We looking forward to helping you all learn more about what makes Frog Pond so special.
If you were unable to attend the open house on Saturday, no worries. You are welcome to join us for a tour. Just give us a call at 703-765-7663 to schedule.
And, be sure to check out our summer camp options for children 3 to pre-kindergarten.