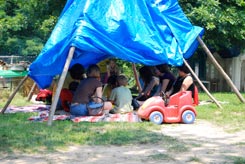 Leap into Summer Fun!
Join us for a weekly summer camps enriched with science and nature exploration and learning for kids 3 years to pre-kindergarten.
Your child will develop friendships while enjoying nature, art, movement, literature and music in a relaxed outdoor camp environment.
Frog Pond is a unique place that functions in concert with the rhythm of nature. Our camp themes are based on natural cycles and our camp sessions are structured in ways that enable us to take advantage of what nature brings our way throughout the summer season.
Because we embrace learning through play and exploration, and because we embrace an emergent curriculum approach, our program is purposefully fluid and adaptive. Some of the weekly themes that we expect to explore during the eight weeks include:
Insects -Tiny wonders in a great big world
Wetlands – Ways creatures adapt to their environment
Senses – Exploring the natural world through taste, touch, sight, smell and sound
Nature's Lunch Box – Cooking from the garden
Make-Believe – Dramatic play with folktales, fairytales, and myth
Building – Sand, water, simple machines
Interwoven within these themes are the core elements of social and emotional development, relationship building, fine and gross motor skills, creative expression, and observational skills.  Themes will be enhanced with elements of literature, art, music and movement.
Camp Sessions
(Must select at least two sessions)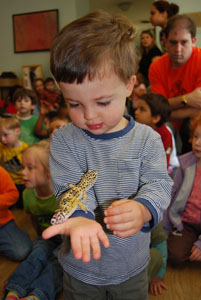 Session 1:  June 27th – July 1st
Session 2:  July 5th   –  July 8th **
Session 3:  July 11th – July15th
Session 4:  July 18th – July 22nd
Session 5:  July 25th –  July 29th
Session 6:  August 1st –    August 5th
Session 7:  August 8th –    August 12th
Session 8:  August 15th – August 19th
Camp Fees
Half-Day (3 years to pre-K and rising kindergartners)
Full day: $350 / week (rising kindergartners only)
Get details and register today!