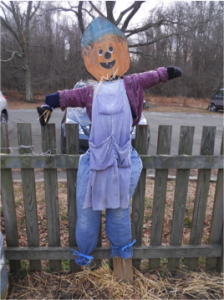 Winter is a time for renewal. It's when the farmer sits back and contemplates his crop. It's a time to find the quiet center and enjoy it.  The Frog class has been aware of so much happening outside, even during nature's nap-time.
We know some trees remain green. Evergreen. They protect and feed birds and other animals during the cold, blustery days. We know some birds stay around. We created a new food source for them, a scarecrow. We've seen Papa and Mama cardinal all winter.
We know some animals don't sleep all winter. Mr. Fox visited Frog Pond and chased Big Food II, then thought about eating chickens. Right in mid-day. The fox might be beautiful but we made noise and yelled at it "Go Home!" We have watched signs of wildlife and followed the tracks in the snow.
We know winter is not an end. Spring will bring change. We are not sure what to expect, but we will keep watch.
– Sue, Lead Frog Teacher